March 1st, 2023 – Alexandria, VA:
The National Home Infusion Association (NHIA) is proud to announce its
2023-2024 Board of Directors. Beginning this term, the association expanded to 15 the number of board
seats on its governing body to provide a broader diversification of infusion provider organizations. Board
members serve 3-year terms as representatives for their NHIA member organization. Companies joining
the NHIA Board of Directors are:
• KabaFusion, represented by Frank Esposito, RPh, BCSCP, Deputy COO
• Soleo Health, represented by Drew Walk, BSPharm, CEO
• New England Life Care, represented by Bob Calway, President and CEO
• UC Davis Health, represented by David Vermeulen, PharmD, MS, Home Infusion Manager
The remaining members of the Board include: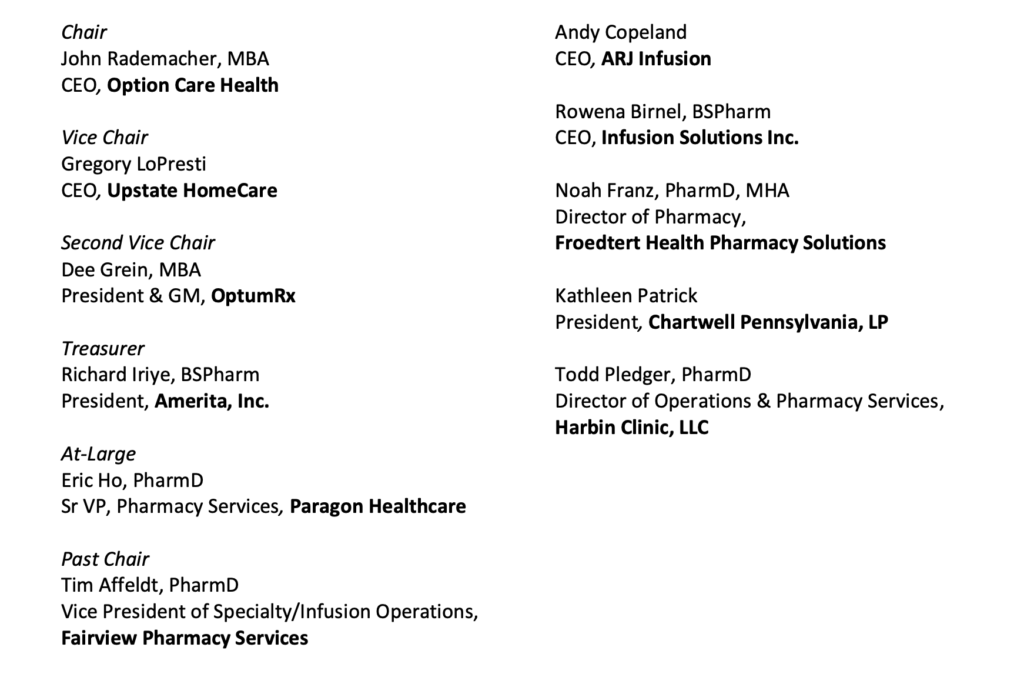 The 2023-2024 Board of Directors will be installed after the NHIA Annual Conference held in
Washington, D.C. March 25-29.
About NHIA
NHIA is a trade association that represents companies that provide medically necessary infusion
therapies to patients in alternate sites, as well as companies that manufacture and supply infusion and
specialty pharmacy products. The association's mission is to provide advocacy, education, and resources
to the home and alternate site infusion community so the patients they serve can lead healthy,
independent lives. For more information, visit www.nhia.org.