November 2023, Los Angeles, California – Ernst & Young LLP (EY US) announced that Founder & Chief Executive Officer, Dr. Sohail Masood of KabaFusion was named an Entrepreneur Of The Year® 2023 National Award winner!
Entrepreneurs play a vital role in transforming our lives by disrupting entire industries and reinventing economies. After receiving recognition as a Los Angeles award winner, Dr. Sohail Masood has gone on to be named the Entrepreneur Of The Year® 2023 National Award winner! Winners were chosen from ten companies.
Dr. Masood joins a community of ambitious leaders. The 37-year-old Entrepreneur Of The Year program is recognized as one of the most prestigious business award program in the country and across the globe.
Dr. Masood was honored during the EY Strategic Growth Forum® on November 11, 2023, in Palm Springs, California. This is his 3rd time being recognized by Ernst & Young, having won Entrepreneur of the Year in 2017 and 1999.
"I am truly honored to receive this prestigious award given to only ten companies every year. Nominees are chosen from the USA, Canada and Puerto Rico. Being selected as one of the ten, I am speechless. Although it's celebrating Entrepreneurship, the success of an entrepreneur comes from their management team, employees and the trust of customers, in our case, patients. I am truly blessed by this honor. I received this award because KabaFusion provides the best clinical care to its patients, and because, as a company, we care about our employees. This award is for them and all of their hard work. Enjoy it!"
– Dr. Sohail Masood, Chief Executive Officer, KabaFusion
Learn more about Dr. Masood at:
https://www.ey.com/en_us/entrepreneur-of-the-year/sohail-masood-kabafusion
https://www.kabafusion.com/ceo/
1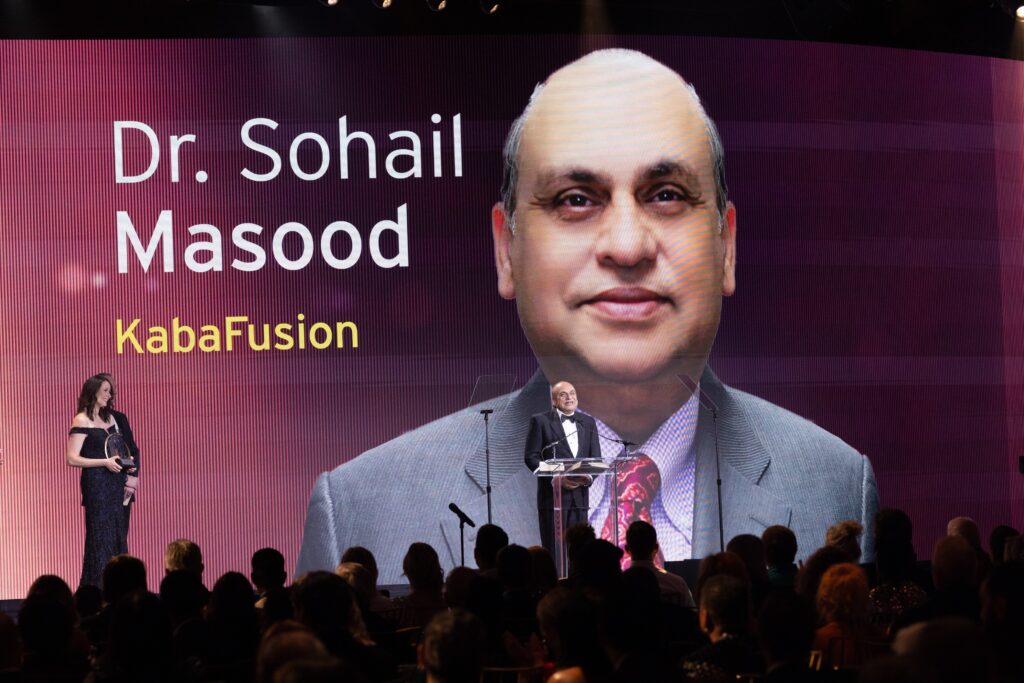 section

1
Winners were selected from a pool of 224 regional Entrepreneur Of The Year 2023 Award winners from 197 companies across the US. Entrepreneur Of The Year was created to honor those audacious entrepreneurs who dare to reimagine what's possible and develop products and solutions that disrupt markets, revolutionize industries and transform lives. Now in its 37th year, it is celebrated as one of the most respected business award programs in the world.
Winners were selected by a panel of independent judges made up of entrepreneurs and other notable business leaders from across the US. The candidates were evaluated based on their demonstration of building long-term value through entrepreneurial spirit, purpose, growth and impact, among other core contributions and attributes.
Dr. Masood joins the following leaders from across the nation as Entrepreneur Of The Year 2023 National Award winners:
· Cheri Beranek, President and CEO, Clearfield, Minneapolis, Minnesota
· Jason McGowan, Co-Founder and CEO, Crumbl Cookies, Lindon, Utah
· Felipe Hasselmann, President and CEO, Cuisine Solutions, Sterling, Virginia
· Wemimo Abbey, Co-Founder, Co-CEO and Samir Goel, Co-Founder, Co-CEO, Esusu, New York, New York
· RJ Melman, President, Lettuce Entertain You Restaurants, Chicago, Illinois
· Tom Brennan, CEO and CTO, Sol-Ark, Plano, Texas
· Gaurab Chakrabarti, Co-Founder and CEO and Sean Hunt, Co-founder and CTO, Solugen, Houston, Texas
· Josh Meyerowitz, Founder and CEO, SupplyHouse, Melville, New York
· Michael Happe, President and CEO, Winnebago Industries, Eden Prairie, Minnesota (National Overall Award winner)
"Business leaders everywhere are navigating a slew of macro-economic and geopolitical challenges. Still, this year's National Award winners led their companies to new heights, showcasing indomitable spirits and commitments to their people and communities," said Andrew (AJ) Jordan, EY Americas Entrepreneur Of The Year Director. "They embody the best of entrepreneurship and the ingenuity so necessary to drive markets and help societies the world over."

Since 1986, Entrepreneur Of The Year has celebrated entrepreneurs whose drive, innovative spirit and creativity have fueled their companies' success, revolutionized their industries and positively impacted their communities. The National finalists and winners were announced during a celebration held at the Strategic Growth Forum®, one of the nation's most prestigious gatherings of high-growth, market-leading companies. They become lifetime members of the esteemed community of award winners, with exclusive, continued access to the experience, insight and wisdom of fellow alumni and other ecosystem members in over 60 countries — all supported by a wide array of EY resources.
1
1
Sponsors
Founded and produced by Ernst & Young LLP, the Entrepreneur Of The Year Awards include presenting sponsors PNC Bank, SAP America and the Ewing Marion Kauffman Foundation.
About Entrepreneur Of The Year™
Entrepreneur Of The Year® is the world's most prestigious business awards program for ambitious entrepreneurs. These visionary leaders deliver innovation, growth and prosperity that transform our world. The program engages entrepreneurs with insights and experiences that foster growth. It connects them with their peers to strengthen entrepreneurship around the world. Entrepreneur Of The Year is the first and only truly global awards program of its kind. It celebrates entrepreneurs through regional and national awards programs in more than 145 cities in over 60 countries. National Overall Award winners go on to compete for the World Entrepreneur Of The Year title. Visit ey.com/us/eoy.
1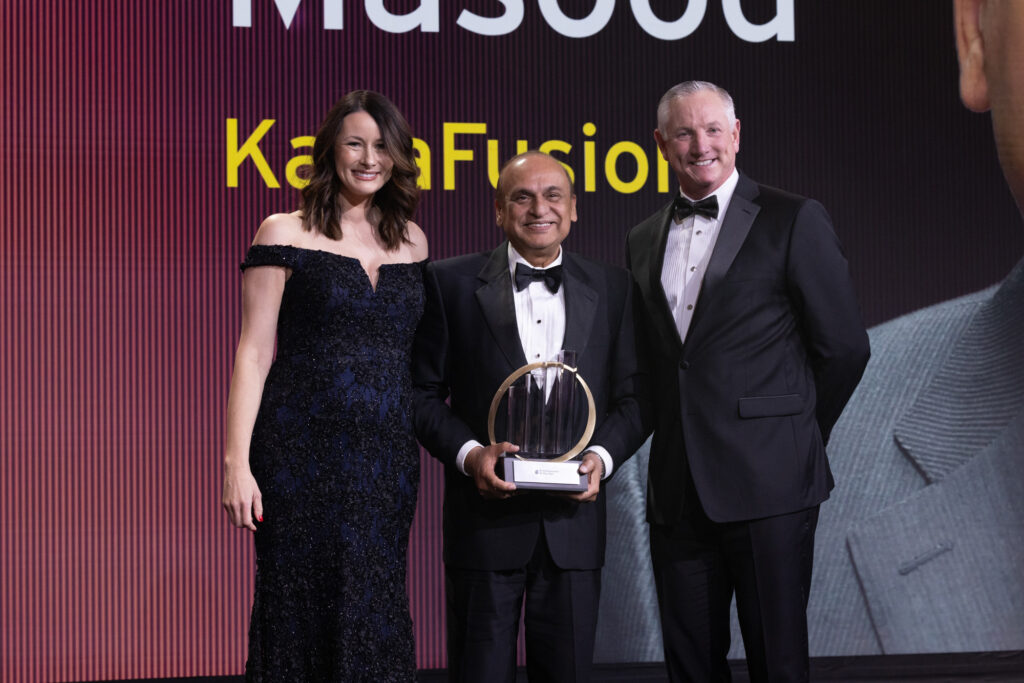 1